Hillsong Young & Free – All Of My Best Friends (Acoustic)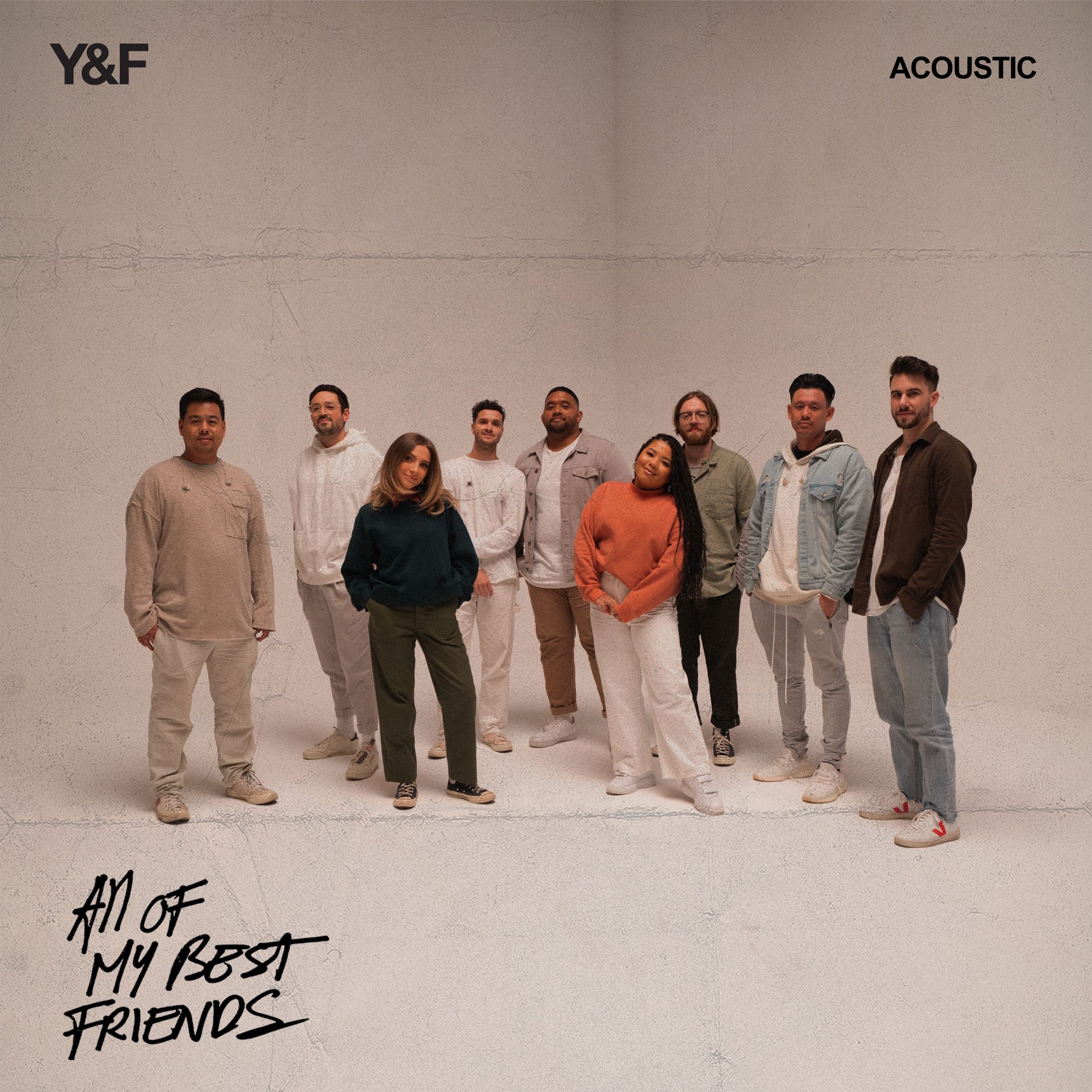 Today, GRAMMY® nominated Hillsong Young & Free releases a brand-new acoustic EP featuring tracks off their latest album, "ALL MY BEST FRIENDS." Offering a unique visual component for fans, the 8-track project features live performances of each acoustic iteration, including the group's No.1 HOT AC single "Best Friends." "ALL OF MY BEST FRIENDS" acoustic EP is available worldwide.
"The reason we decided to make 'ALL OF MY BEST FRIENDS (Acoustic),' was because during COVID we found ourselves singing these songs, more often than not, on a piano or an acoustic guitar," says Young & Free's Aodhan King. "Although they were designed to be sung in live rooms with many people jumping and dancing, we found that there was an intimacy that came when we sang these songs this way."
"We pray this album will lead people closer to the heart of God and that these songs would become confessions sung in the quiet place and reminders of the joy and hope that is found in Jesus," adds King. "Though we can't be together physically, we hope these songs can bring us together in spirit and lead us onwards into all that God has for us."
Young & Free's original full-length album that released in August 2020 earned the group a 2021 GRAMMY® nomination for "Best Contemporary Christian Album" and marked their second career nomination. Since its debut, "ALL OF MY BEST FRIENDS" has garnered more than 40M global streams and over 13M combined YouTube views.
This new acoustic compilation delivers a fresh take on select fan-favorites off the original album, including "Uncomplicated," "As I Am," "World Outside Your Window," "Lord Send Revival," "Best Friends" (which peaked at #1 on the Hot AC chart with more than 13M global streams), and breakout single "Never Have I Ever" which hit #1 at Hot AC for four consecutive weeks.
"This project was a great opportunity to try things that we've never done before and to give a fresh visual take on a fresh-sounding album," says Video Director Ricardo Guzman. "While the live album had the grungy and lo-fi look that was very representative of the night we did the recording, we felt the acoustic versions could be something different. We took a cinematic approach where every shot was carefully planned and lit, and gave each song a different feel while making them all live in the same world. In many ways, pushed the boundaries of what a worship album could be and we wanted to do the same visually, while still creating art that makes space for people to connect with Jesus."
Since forming in 2013, Hillsong Young & Free has released a number of highly successful albums and more than 20 singles, acquiring over 503 MILLION YouTube channel views and 1.2 BILLION global career streams (with a 700,000 plus global unit career consumption). With a combined social following of 3 MILLION plus fans, Young & Free has seen eight No. 1 career singles and 11 Top 5 singles at Hot AC radio. Their debut album "We Are Young & Free" landed in the Top 25 on Billboard 200 while "Youth Revival" garnered the group its first-ever GRAMMY® nomination for Best Contemporary Christian Music Album (2017). Their recent single "Every Little Thing" hit #1 at Hot AC radio for eight weeks, making it the longest running #1 for the band.
"ALL OF MY BEST FRIENDS" Acoustic EP Tracklisting:
1. Best Friends – Acoustic
2. Never Have I Ever – Acoustic
3. World Outside Your Window – Acoustic
4. As I Am – Acoustic
5. Uncomplicated – Acoustic
6. Indescribable – Acoustic
7. Need Your Love – Acoustic
8. Lord Send Revival – Acoustic
For more information on Hillsong Young & Free:
Instagram: www.instagram.com/youngandfree
Facebook: https://www.facebook.com/HillsongYoungAndFree/
Twitter: www.twitter.com/youngandfree
Website: https://hillsong.com/youngandfree/
---